In just a few weeks, we get to beat the heat with some tricks and treats as Woogie Weekend makes a triumphant return to Silverado's Oak Canyon Park from July 8th through the 10th. After last year's memorably wet and wild antics, we're excited to be back once again as the creme of the crop of four to the floor beats in House, Techno and Underground music grace the stage for three magical days of delectable music, wonderful vibes and an effervescent community of merry makers and booty shakers. Boasting an already sonically salacious lineup, Do LaB just had to go and grab Totally Enormous Extinct Dinosaurs for a DJ Set. and make those single day, Sunday passes incredibly worth it. T.E.E.D. will be joining the esteemed ranks of BENOIT & SERGIO, BLOND:ISH, CLAPTONE, KIDNAP KID, MARK FARINA and so much more.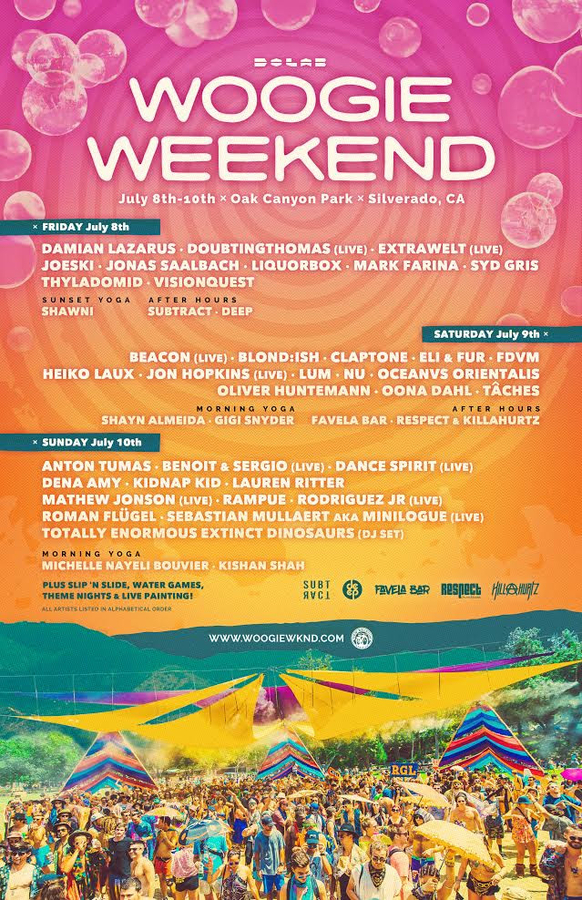 With the announcement of T.E.E.D. on the bill also comes some exciting after-hours parties featuring the likes of the LIB favorites the Favela Bar, a surprise appearance by some much needed bass from Machete and the Respect Drum & Bass Squad, and the Subtract and Deep LA squads.
Get that bend and stretch in early before hitting the dancefloor with some of the esteemed yogi's featured at this year's festival. Friday evening will showcase a surreal sunset yoga session from LIB Legend Shawni, Saturday's salutations feature a Yogaworks takeover by Shayn Almeida and Gigi Snyderwhile Sunday's yogis will be guided by renowned dancer-scientist-yogini-mystic Michelle Nayeli Bouvier and mind body expert and holistic teacher Kishan Shah, who returns to Woogie Weekend for the second year in a row.
Woogie Weekend 2016 Full Lineup
Friday: DAMIAN LAZARUS, DOUBTINGTHOMAS (live), EXTRAWELT (live), JOESKI, JONAS SAALBACH, LIQUORBOX, Mark Farina, SYD GRIS, THYLADOMID, VISIONQUEST
Yoga: Shawni
After Hours: Subtract, Deep
Saturday: BEACON (live), Blond:ish, Claptone, Eli & Fur, FDVM, HEIKO LAUX, JON HOPKINS (live), LUM, NU, OCEANVS ORIENTALIS, OLIVER HUNTEMANN, OONA DAHL, Tâches
Yoga: Shayn Almeida, Gigi Snyder
After Hours: Favela Bar, Respect, Killahurtz
Sunday: ANTON TUMAS, Benoit & Sergio (live), DANCE SPIRIT (live), Dena Amy, Kidnap Kid, LAUREN RITTER, MATHEW JONSON (live), RAMPUE, RODRIGUEZ JR. (live), Roman Flügel, SEBASTIAN MULLAERT aka MINILOGUE, TOTALLY ENORMOUS EXTINCT DINOSAURS (DJ Set)
We know time's getting close to Woogie Weekend, so we're we're excited to announce that Do LaB has partnered with New Belgium for an epic giveaway, and you could be the one!
One lucky fan will win the 2016 Grand Prize: Two Full Weekend Passes + One Car Camping Pass to Woogie Weekend plus one 25th Anniversary Limited Edition New Belgium 3-speed commuter Bicycle handmade in the USA by Detroit Bikes with special details.
One second place winner will receive two Full Weekend Passes to Woogie Weekend. Contest will close on Thursday, June 30 at 11:59PM PST followed by winners announced via the giveaway widget and via email. Please see full Contest Guidelines below. May the odds be ever in your favor!
Contest Rules:


Entries can be submitted up until Thursday, June 30 2016 at 11:59PM PST.


Entries are handled through the Rafflecopter widget provided above. You may enter without any obligation to social media accounts.


Your email address is required so we can get in touch with you if you win, and will only be made available to Do LaB. It will not be given out to any third parties.


Must be 21+ to enter. Contestants can come from anywhere in the world but need valid government issued ID. Travel out to Woogie Weekend will not be covered for any prize pack recipient.


Winners will be chosen randomly by the Rafflecopter widget. One (1) winner will receive Grand Prize Package and One (1) winner will win the Second Tier Prize.


Winners will be notified via email. Winners must respond within three days of being contacted to redeem their prize. If you do not respond within that period, another winner will be chosen at random. Make sure that the email account you use to enter the contest includes your real name and a working email.


Prize packages are part of a promotional giveaway and non-transferable.


The winner of the bicycle must pick it up at the Do LaB office located in Downtown Los Angeles. If you unable to pick up the bicycle, you can transfer the pick up of the bicycle to a friend (must have a written letter of release) or to next winner in line and still win the tickets to WW.


Enter now for your chance to win!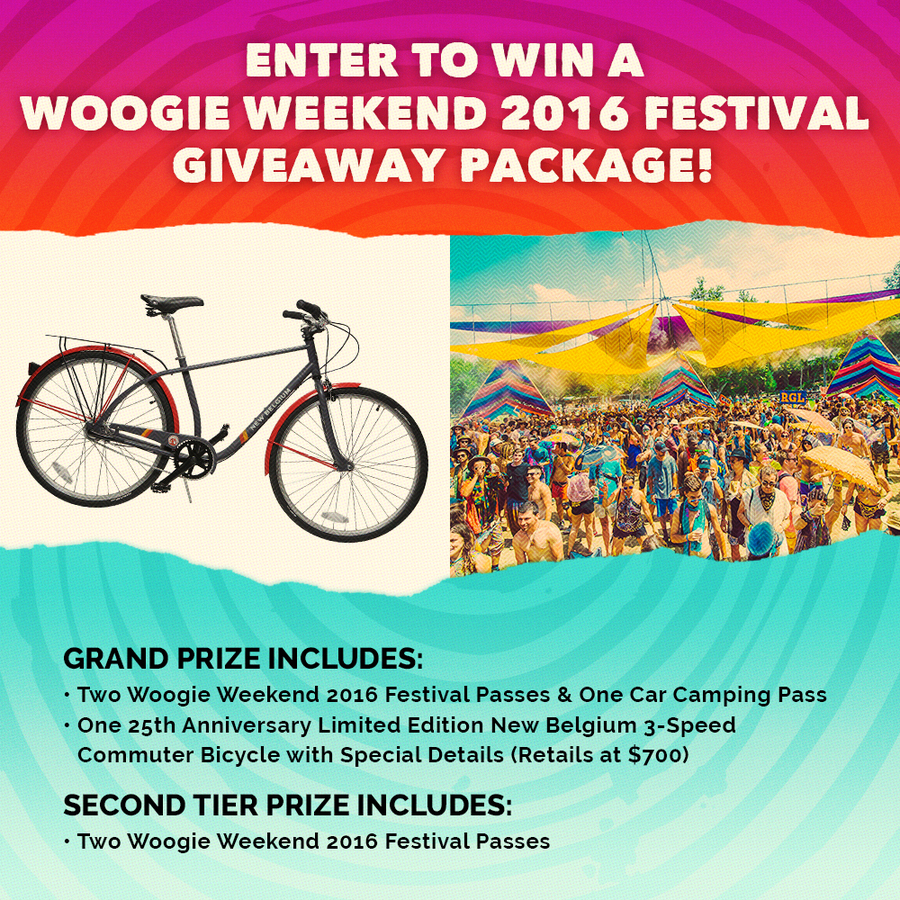 Don't want to stretch your luck? Full weekend, 2 day and 1 day passes for Woogie Weekend are still available - pick your party and secure your 2016 pass here!
Connect with DoLaB + Woogie Weekend

Woogie Weekend: Website | Facebook | Twitter | Instagram

Do LaB: Website | Facebook | Twitter | Instagram