Returning to Oregon's Wolf Run Ranch, What The Festival is proud to present the Second Phase of their eclectic 2016 lineup. Taking place from June 17th to 20th, the stage is set for the wild rumpus to return as What The Festival?! puts Oregon on the West Coast Festival Circuit map.
Joining a lineup that's already blossoming in talent with the likes of M!NT, MIKHAL, FILASTINE, and LILA ROSE are live and electronic acts LUNICE, BUKU, JOSH PAN, JERRY FOLK, SUGARPILL, and STELLAMARA . Complimenting this is a diverse assemblage of artists from House and Bass to Steampunk and Concerto, including Dixon's Violin, Love Gigantic, The Saloon Ensemble, SEPIATONIC, DJ ANJALI, and many more.
The lineup will join forces across eight distinctly decorated stages that are strewn across the sprawling landscape of Wolf Run Ranch. Let nature take your breath away as you bask in the shadow of Oregon's iconic Mt. Hood and the stunning National Forest. A full range of immersive environments will envelop attendees with auditory perfection provided by What The Festival's Funktion One sound systems.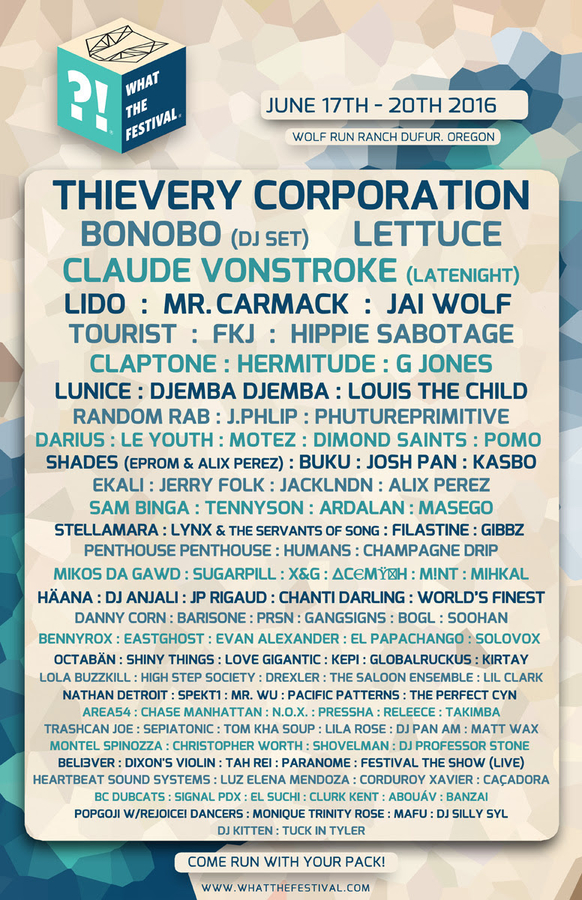 The Complete Lineup in Alphabetical Order


abouÁv
ACEMYTH
Alix Perez
ARDALAN
Area 54
BANZAI
Barisone
BC DUBCATS
BELI3VER
BENNYROX
BOGL
Bonobo (DJ Set)
Buku
Caçadora
CHAMPAGNE DRIP
Chanti Darling
CHASE MANHATTAN
Christopher Worth
CLAPTONE
CLAUDE VONSTROKE
cLurk Kent
Corduroy Xavier
DANNY CORN
DARIUS
DIMOND SAINTS
DIXON'S VIOLIN
DJ Anjali
DJ KITTEN
DJ Pan Am
DJ PROFESSOR STONE
DJ Silly Syl
DJEMBA DJEMBA
DREXLER
EASTGHOST
EKALI
EL PAPACHANGO
El Suchi
EVAN ALEXANDER
Festival The Show (LIVE)
Filastine
FKJ
G JONES
Gangsigns
GIBBZ
GlobalRukus
HÄANA
Heartbeat Sound Systems
HERMITUDE
High Step Society
HIPPIE SABOTAGE
HUMANS
J.PHLIP
JACKLNDN
JAI WOLF
Jerry Folk
Josh Pan
JP RIGAUD
KASBO
KEPI
Kirtay
LE YOUTH
LETTUCE
Lido (Live)
LIL CLARK
Lila Rose
Lola Bizzkill
LOUIS THE CHILD
Love Gigantic
LUZ ELENA MENDOZA
Lunice
Lynx & The Servants of Song
M!NT
Mafu
MASEGO
Matt Wax
MIHKAL
MIKOS DA GAWD
Monique Trinity Rose
Montel Spinozza
MOTEZ
MR. CARMACK
MR. WU
N.O.X.
NATHAN DETROIT
OCTABÄN
Pacific Patterns
Paranome
PENTHOUSE PENTHOUSE
PHUTUREPRIMITIVE
POMO
POPgoji w/Rejoice! Dancers
PRESSHA
PRSN
RANDOM RAB
RELEECE
SAM BINGA
Sepiatonic
Shades (Eprom & ALIX PEREZ)
Shiny Things
Shovelman
SignalPDX
SOLOVOX
SOOHAN
SPEKT1
Stellamara
Sugarpill
Tah Rei
Takimba
TENNYSON
THE PERFECT CYN
The Saloon Ensemble
THIEVERY CORPORATION
TOM KHA SOUP
TOURIST
Trashcan Joe
Tuck in Tyler
World's Finest
X&G
What The Festival stands apart as a majestic departure from the ordinary and has built an unmistakable reputation for lighthearted discovery and adventure. Awe-inspiring views, countless art installations, massive pool parties, and a nightclub amidst an enchanted forest are just a few of What The Festival's unique offerings that help foster it's lovingly tight-knit community.
Purchase Tickets Here!
For more on What The Festival?!, head to their socials -