Afterlife RETURNs to New York City after last years sold-out show for an immersive, audio/visual experience. On Saturday, September 7th Brooklyn Mirage will provide the perfect space for Afterlife heads TALE OF US to hold court with their uniquely transcendent techno. Alongside the duo are regular partners Âme and MANO LE TOUGH, two bright stars from the Afterlife label in MATHAME and DENIS HORVAT, and Return will open the floor.
In The Great Hall, Klockworks iconic BEN KLOCK will play alongside heavy hitting techno artists CHRIS LIEBING, FJAAK, Courtesy, ETAPP KYLE and VAAL.

Plusyes and Tirador will curate the visuals in the Brooklyn Mirage and Great Hall respectively. Additionally, in the Brooklyn Mirage, there will be a special, interactive performance between Tale Of Us and the singular work of acclaimed, contemporary visual artist Quayola, elevating the music to another dimension.
Tickets to the event are on sale now on Resident Advisor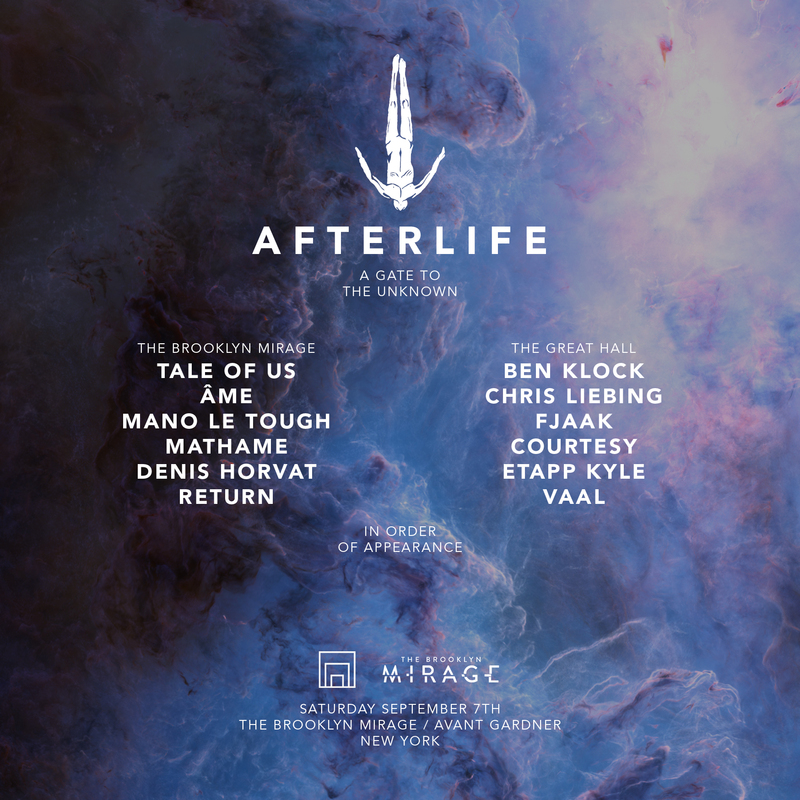 Saturday, September 7, 2019
The Brooklyn Mirage:
Tale Of Us
AME (DJ)
Mano Le Tough
Mathame
Denis Horvat
Return
Visual curation by Plusyes
**Special visual performance by Quayola**
The Great Hall:
Ben Klock
Chris Liebing
FJAKK (DJ)
Courtesy
Etapp Kyle
Vaal
Visual curation by Tirador
6pm-4:30am | 21+
The Brooklyn Mirage / Avant Gardner
140 Stewart Avenue
Brooklyn, NY 11237
Facebook Event