Back in Bradley, California for it's third year running, the 2016 edition of Lightning in a Bottle is back at it again - providing an audiovisual feast, sure to pique each and every one of your senses, including your childlike sense of wonder and amazement. Hosted by the Do LaB, Southern California's tried and true musical merrymakers and vibe providers with a long standing history of events including Woogie Weekend and The Great Convergence, LIB features interactive and immersive art in every corner, a conscious community actively working for both a greener environment and a greener festival through eco-conscious awareness and expertly taught workshops and seminars, a family friendly environment and last, but definitely not least, the biggest movers, shakers and musical tastemakers in the dance music scene today.
This year's monster lineup boasts acts from CHET FAKER to FOUR TET, TOKIMONSTA and GUY GERBER, LANE 8, MIJA and a highly anticipated back to back set from MINNESOTA and G-Jones; these esteemed music makers are only a portion of the talent, but If you thought the exceptional lineup ended at the Lightning, Thunder or Woogie Stages - you definitely have another think coming. When the main stage music shuts down, the side stages are just starting to warm up - and they'll keep you warm into the wee morning hours with the booty shaking bass and fulfilling grooves coming from the Pagoda and Favela Bars, and the ethereal, bone rattling musicianship coming from The Grand Artique. If you don't recognize these artists now, implicitly understand that these are the rising stars of today - set to headline a main stage near you so very soon. Make sure you pack some sturdy dancing shoes, stock up on those energy drinks and be willingto mosey around at a beat's notice because the lineup for The Grand Artique, the Pagoda Bar and the Favela Bar give the main stage lineups a run for their money.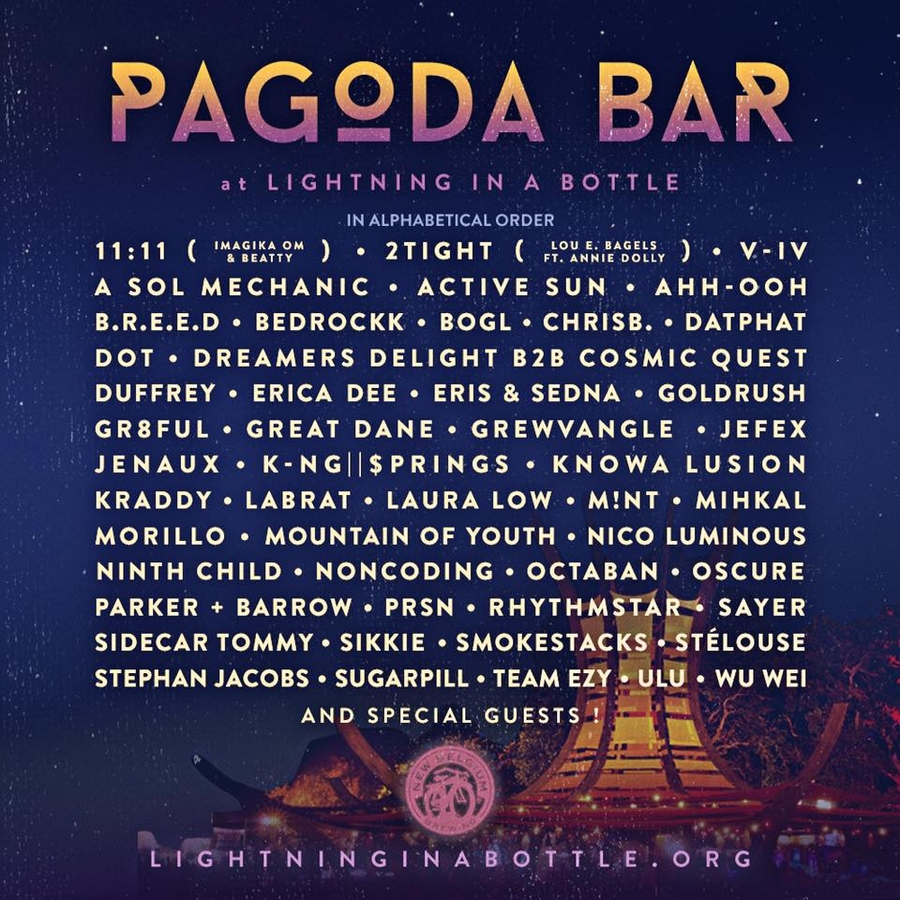 Nestled between the Thunder & Lightning Stages, the Pagoda Bar is down with the get down this year with KRADDY, Great Dane, MOUNTAIN OF YOUTH,
K-NG $prings, Sidecar Tommy, Rhythmstar - and do I smell another Headtron takeover with Sugarpill, Morillo, ChrisB and GOLDRUSH?!
On the other side of the festival, the Favela Bar is simply a hop, skip and a boogie away from the Woogie. Crafted from upcycled materials, the Favela Bar plays host to Los Angeles loved artists with international followings like DELA MOONTRIBE, Enzo Muro, Diva Danielle, Dadon, MARQUES WYATT and Woogie Stage Manager JESSE WRIGHT.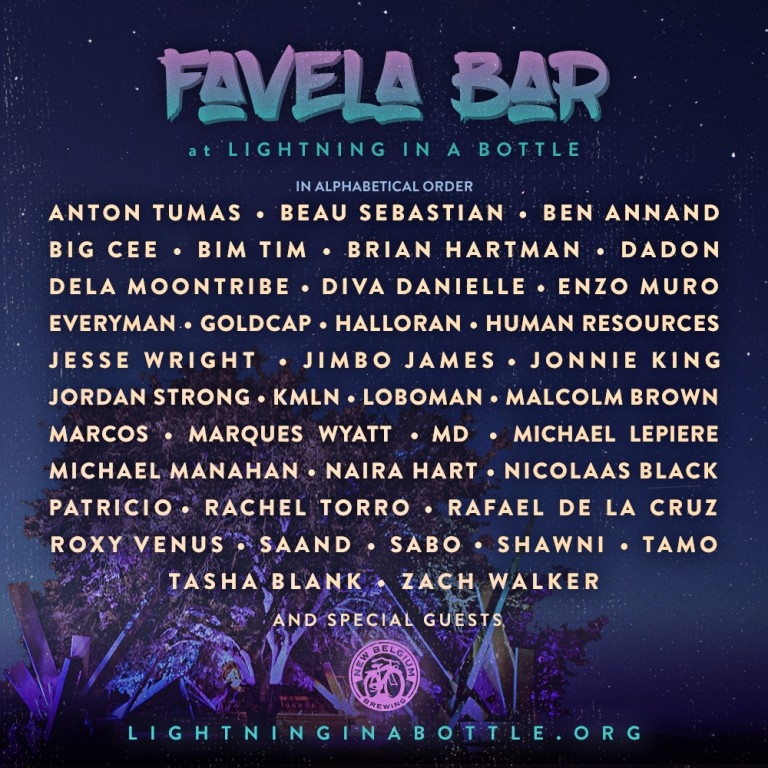 For more on the Do LaB or Lightning in a Bottle, head to their socials

LIB: Website | Facebook | Twitter | Instagram