Sure, four to the floor house beats and whomping dubstep provides an epic audio landscape for a festival - but trust me when I say that Trance is the mother ship of dance music and the mecca of feels. So much so, that Insomniac proudly presents the second edition of it's fabled dedicated Trance event aptly titled Dreamstate. This year, prepare for an eargasm as over 60 artists take to the four stages of the arena. Spanning Friday November 25th through Saturday, the 26th at the iconic NOS Events Center in San Bernadino, the event throws me back to my first rave - my very first EDC - which quite ironically was also the last one at the NOS Center. After the much hyped lineup sneak peak across the Dreamstate socials, Insomniac has unveiled the whole wheel of cheese, and we're impressed
Feast your senses on the salacious sounds of Paul Oakenfold, SIMON PATTERSON, ATB, COSMIC GATE, Ferry Corsten presenting Gouryella, a psytrance set from Infected Mushroom and so much more.
Tickets are on sale NOW - buy yours today!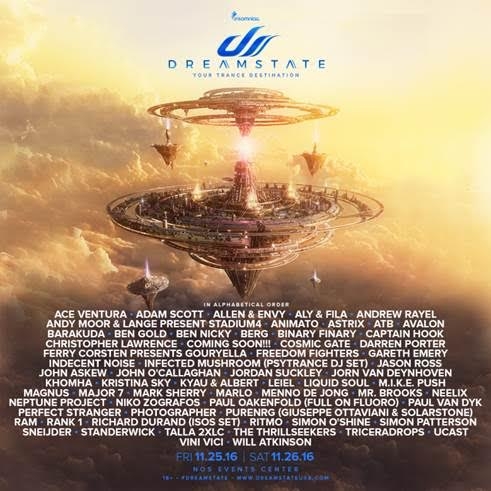 The Talent Roster - in alphabetical order:
ACE VENTURA
ADAM SCOTT
ALLEN & ENVY
ALY & FILA
ANDREW RAYEL
ANIMATO
ASTRIX
ATB
AVALON
BARAKUDA
BEN GOLD
BEN NICKY
BERG
BINARY FINARY
CAPTAIN HOOK
CHRISTOPHER LAWRENCE
COMING SOON!!!
Cosmic Gate
DARREN PORTER
FERRY CORSTEN PRESENTS GOURYELLA
FREEDOM FIGHTERS
GARETH EMERY
INDECENT NOISE
Infected Mushroom (Psytrance DJ Set)
JASON ROSS
JOHN ASKEW
JOHN O'CALLAGHAN
JORDAN SUCKLEY
JORN VAN DEYNHOVEN
KHOMHA
KRISTINA SKY
KYAU & ALBERT
LEIEL
LIQUID SOUL
M.I.K.E. PUSH
MAGNUS
MAJOR 7
MARK SHERRY
MARLO
MENNO DE JONG
MR. BROOKS
NEELIX
NEPTUNE PROJECT
NIKO ZOGRAFOS
Paul Oakenfold (Full On Fluoro)
PAUL VAN DYK
PERFECT STRANGER
PHOTOGRAPHER
PureNRG (Giuseppe Ottaviani & Solarstone)
RAM
RANK 1
Richard Durand (ISOS Classics)
RITMO
SIMON O'SHINE
Simon Patterson
SNEIJDER
SPECIAL GUEST
Stadium 4 (Andy Moor & Lange)
STANDERWICK
TALLA 2XLC
THE THRILLSEEKERS
TRICERADROPS
UCAST
VINI VICI
WILL ATKINSON

For more on Dreamstate, including playlists, artist interviews and most anticipated sets - keep it locked on the DJ List; for more details from Insomniac themselves, head to Dreamstate's socials -