Set at a time when the sun never fully sets in the world's most northerly capital city, Reykjavík's midnight sun Secret Solstice music festival has boosted their lineup for the fourth time with 41 additional names including DIE ANTWOORD, ART DEPARTMENT, ST GERMAIN, GENERAL LEVY, and more  from Iceland and abroad.
Additional Phase 4 artists are as follows:
Die Antwoord [ZA]
FLATBUSH ZOMBIES [US]
Art Department [CA]
St Germain [FR]
General Levy [UK]
SLOW MAGIC [US]
M.O.P [US]
Hjaltalín [IS]
INFINITY INK [UK]
STACEY PULLEN [US]
TROYBOI [UK]
Section Boyz [UK]
PARANOID LONDON [UK]
Gísli Pálmi [IS]
NOVELIST [UK]
XXX Rottweiler [IS]
ROBERT OWENS [US]
MAHER DANIEL [CA]
Glacier Mafia [IS]
Ocean Wisdom [UK]
Reykjavíkurdætur [IS]
Jack Magnet [IS]
NITIN [CA]
PROBLEM CHILD [UK]
BIG SWING SOUNDSYSTEM [UK]
Lord Pusswhip & Svarti Laxness [IS]
Wølffe [UK]
KSF [IS]
TANYA & MARLON [IS]
Alexander Jarl [IS]
Fox Train Safari [IS]
Kristian Kjøller [DK]
TUSK [IS]
Geimfarar [IS]
Marteinn [IS]
ILO [IS]
Sonur Sæll [IS]
Brother Big [IS]
ROB SHIELDS [UK]
Balcony Boyz [IS]
WILL MILLS [UK]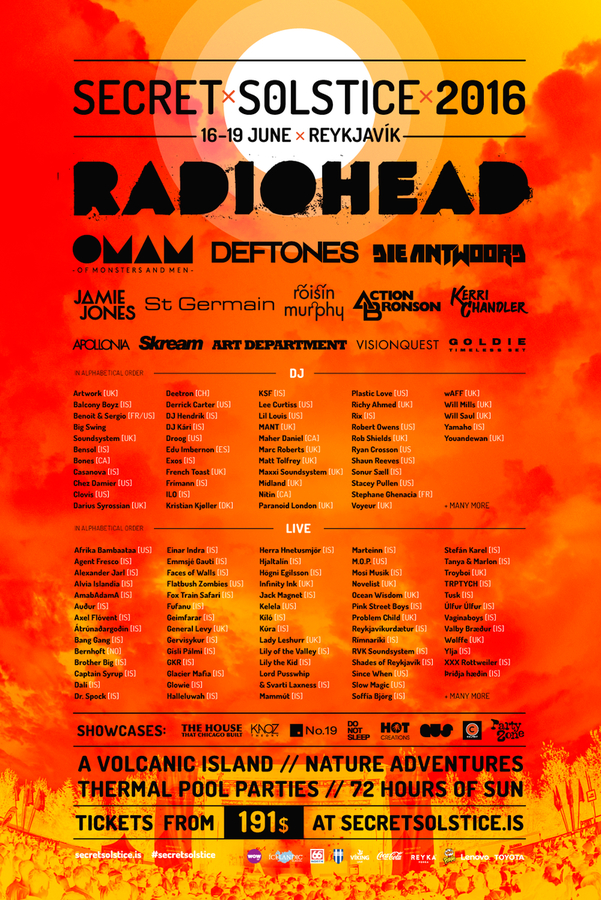 As well as adding on to their existing list of headliners for 2016 including
RADIOHEAD
,
DEFTONES
,
OF MONSTERS AND MEN
,
JAMIE JONES
, and many more, Secret Solstice also announced an additional day to the festival, with gates now set to open on
Thursday, June 16th
, running through
Sunday, June 19th
. There will be no additional cost to attend the additonal day on Thursday, with all event passes now being valid for four days, instead of the previous three.
The Entire Lineup
ACTION BRONSON
AFRIKA BAMBAATAA
Agent Fresco
Alexander Jarl
Alvia Islandia
AmabAdamA
APOLLONIA
Art Department
ARTWORK
Átrúnaðargoðin
Auður
Axel Flóvent
Balcony Boyz
BANG GANG
BENOIT & SERGIO
BENSOL
Bernhoft
Big Swing Soundsystem
BONES
Brother Big
Captain Syrup
CASANOVA
CHEZ DAMIER
CLOVIS
Dalí
DARIUS SYROSSIAN
DEETRON
Deftones
DERRICK CARTER
Die Antwoord
DJ HENDRIK
DJ Kári
Dr.Spock
DROOG
EDU IMBERNON
EinarIndra
Emmsjé Gauti
EXOS
Faces Of The Walls
Flatbush Zombies
Fox Train Safari
FRENCH TOAST
Frímann
Fufanu
Geimfarar
General Levy
Gervisykur
Gísli Pálmi
GKR
Glacier Mafia
GLOWIE
Halleluwah
Herra Hnetusmjör
Hjaltalín
Högni Egilsson
ILO
Infinity Ink
Jack Magnet
Jamie Jones
KELELA
KERRI CHANDLER
Kíló
KSF
Kúra
LADY LESHURR
LEE CURTISS
Lil Louis
LILY OF THE VALLEY
Lily The Kid
Lord Pusswhip & Svarti Laxness
M.O.P
Maher Daniel
Mammút
MANT
MARC ROBERTS
Marteinn
MATT TOLFREY
MAXXI SOUNDSYSTEM
MIDLAND
Mosi Musik
Nitin
Novelist
Ocean Wisdom
Of Monsters And Men
Paranoid London
Pink Street Boys
PLASTIC LOVE
Problem Child
Radiohead
Reykjavíkurdætur
RICHY AHMED
Rímnaríki
RIX
Rob Shields
Robert Owens
Róisín Murphy
RVK Soundsystem
RYAN CROSSON
Shades of Reykjavík
SHAUN REEVES
Since When
SKREAM
Slow Magic
Soffía Björg
Sonur Sæll
St Germain
Stacey Pullen
Stefán Karel
STEPHANE GHENACIA
Tanya & Marlon
Þriðja Hæðin
Troyboi
TRPTYCH
Tusk
Úlfur Úlfur
Vaginaboys
Valby Bræður
VISIONQUEST
VOYEUR
WAFF
Will Mills
WILL SAUL
Wølffe
XXX Rottweiler
Yamaho
Ylja
YOUANDEWAN

Secret Solstice received massive global attention last year for hosting the world's first and only party inside a glacier, within 10,000 year-old ice of Langjökull, the second-largest glacier in Europe. Although their 2016 glacier parties sold out quickly, they've just added an additional date on
June 17th
 with 
100 tickets available
, as well as having several other incredibly unique side events on offer.
Package deals to Iceland for Secret Solstice start at only 77,900kr (approx. £429/$599/€551) including flights and a festival pass from Gaman Travel, with almost twenty cities in the United States, Canada, and Europe covered. Alternatively, 
Festicket have accommodation and ticket packages
 starting at 36,000kr (approx. £200/$279/€257), with options including camping, hostels, and a range of hotels.
With travel to Iceland having never been easier due to the increase of airlines flying to the tiny north Atlantic nation, Secret Solstice still advises to book as early as possible. Due to the event being held over Iceland's biggest weekend for tourism over the year, travel and accommodation can become scarce and expensive closer to the event.
Passes for 
Secret Solstice 2016 are on sale now
 from 24,900kr (approx. £133/$191/€175) for a full festival pass, or from 29,900kr (approx. £166/$230/€211) for a festival pass and camping. Festival information and ticketing can be found via the 
Secret Solstice 2016 festival site
Secret Solstice is an Icelandic music festival that is being held for the third time on June 16-19, 2016 in the city of Reykjavík. It showcases both established artists as well as exciting up-and-coming talent over the course of three days in the 24 hour midnight sun during the summer solstice. It's themed after the Norse religion and mythology of old. It's set to deliver a unique party atmosphere filled with great entertainment.
Stay connected with Secret Solstice!
Website | Facebook | Instagram | Twitter