Tucked away in Avila Beach near San Luis Obisbo, the Forever Never Land Festival is prepared to offer a unique 21 and over experience full of adventure, activity and fantasy. Spread out over three stages of music and four themed lands - Pirate's Cove, Castle Land, Future Land, and International World - Forever Never Land will offer a vast variety of food, drinks and games tailored to each world it creates.
Whether you're a foodie, a festie or simply a kid at heart - Forever Never Land has a little bit of something for everyone! For a break from the music inspired mayhem, hit up some beer or wine tasting, or even try on a game human-sized chess for the nerd inside you. For those of you that are more adventurous, the weekend will also boast a giant water slide, bounce castle, beach volleyball, zip line, slip and slide, a foam pit and last - but certainly not least, laser tag!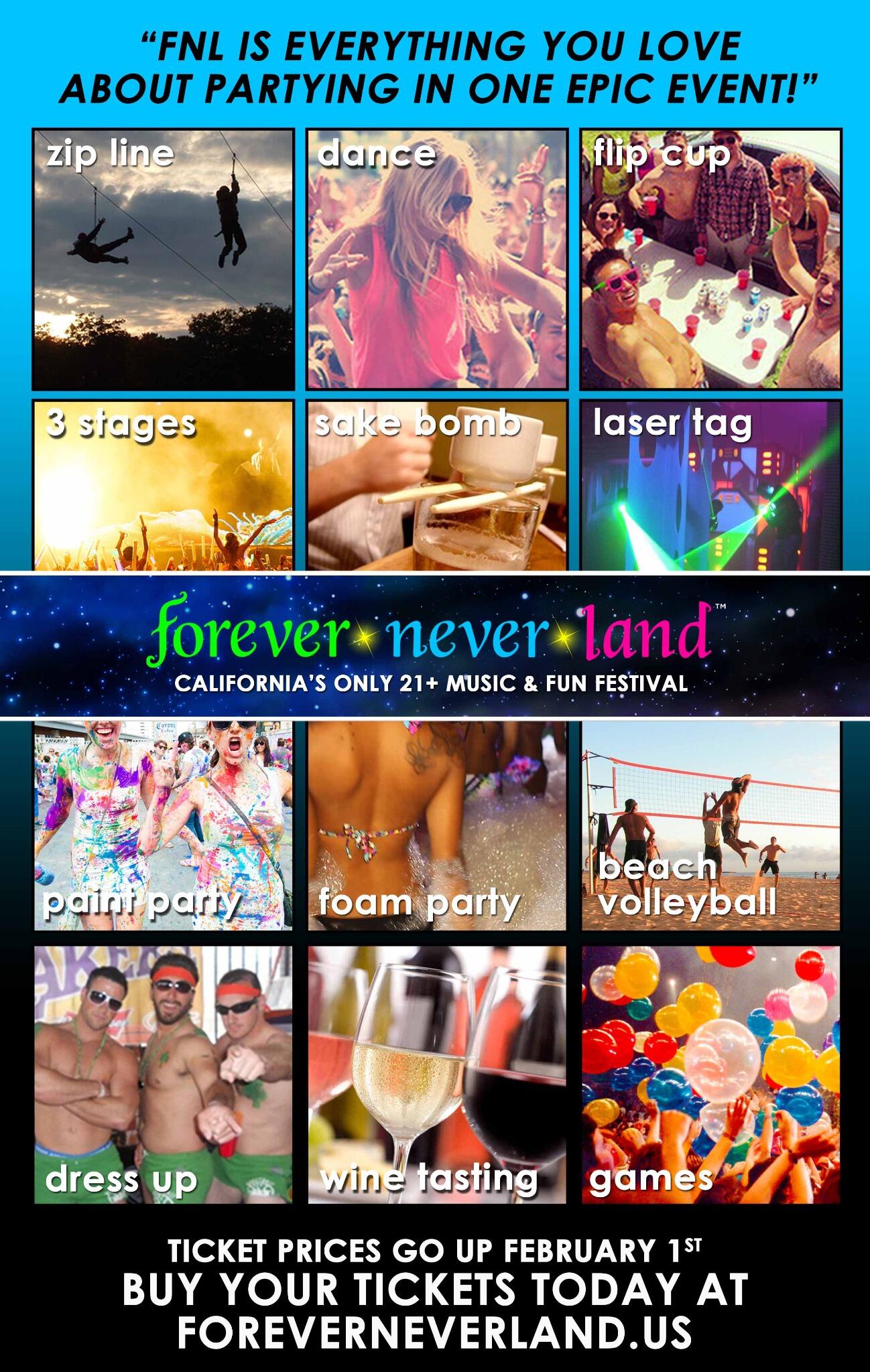 The musical line-up is yet to be announced, but the team at FNL is feverishly putting together an epic lineup for their three stages. The Main Stage will host some of today's biggest and brightest rising stars, while the EDM acts will call the Blackout Stage home. Finally, there's the Forever Stage that's set to throw us all back to the best of the 80's and 90's on Saturday, then switch it up for Nu Disco on Sunday.
If you weren't already sold, check this snazzy little video their team put together:
The Info You Need to Know:
Date: Saturday 9/13, Sunday 9/14
Location:
AVILA BEACH GOLF RESORT
6464 Ana Bay Rd, San Luis Obispo, CA 93405
Travel / Lodging info here; check back later for discount codes.
--

Single day and two day passes are available for this adventure.

Get your tickets here

--
Keep tabs on the Forever Never Land Festival through theirwebsite, Facebook or Twitter for line-up announcements, giveaways and more! Word on the street is Phase 1 is coming out tomorrow so stay tuned, you don't want to miss it!