If you're a sucker for four to the floor beats that linger in the air, emotive melodies that transcend time and tenacious techno tracks - be sure to put Woogie Weekend on this year's 'Festival Bucket List'. Heading back to Irvine's Oak Canyon Park for it's second edition, Woogie Weekend triumphantly returns as a Summer Sister festival to the widely loved Lightning in a Bottle, occurring over Memorial Day Weekend.
Tickets for Woogie Weekend On Sale Now!
What made for an unforgettable, and slightly damp, experience last year can only be improved upon - and we're eager to see what the Do LaB has up their sleeves this year. For three delicious days and nights, househeads can dance under the stars at the Beat Nest and The Hive to a rich roster of international talent and West Coast Festival Favorites.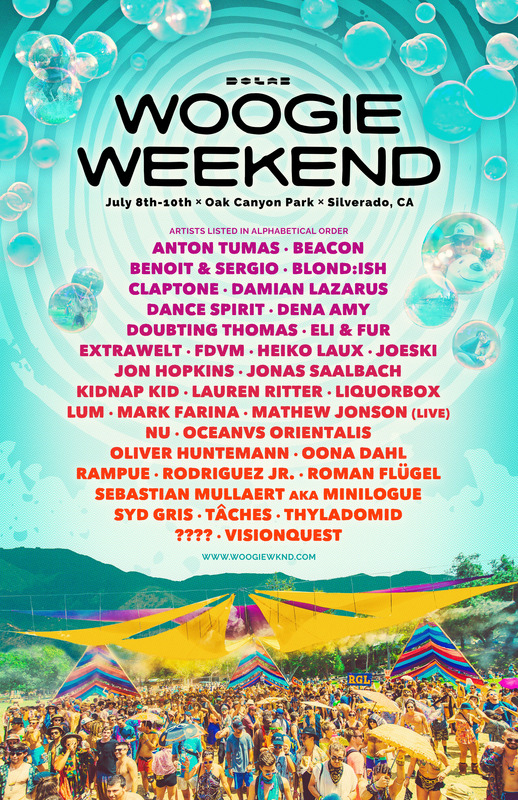 Hot off the heals of the Do LaB stage at Coachella are artists like CLAPTONE, FDVM, OONA DAHL NU and Dena Amy, plus Mushroom Jazz maker MARK FARINA, ELI & FUR, OLIVER HUNTEMANN - a musical pioneer that debuted the Reactable in Los Angeles back at an Incognito Party at King King in 2011, BENOIT & SERGIO, DAMIAN LAZARUS, and blossoming duo DANCE SPIRIT.
For more on Woogie Weekend and the Do LaB, head to their socials -
Woogie Weekend: Website | Facebook | Twitter | Instagram
Do LaB: Website | Facebook | Twitter | Instagram