From our favorite booty shakers and music makers on DIRTYBIRD Records and the eclectic and effervescent party planning and production skill of Los Angeles' esteemed Do LaB comes the second iteration of the DIRTYBIRD Campout, returning to Silverado Campgrounds from October 7th through the 9th.
The one thing I've learned about getting older, is that youth is a state of mind and this is a festival that completely embodies the sentiment. With the nostalgic throwback to your days of Summer camp, water balloon fights, tug of war, and a never ending sea of laughter among both newly bonded and the oldest of friends - DIRTYBIRD Campout has all of that and more. The festival is a sureshot way to cure those end of Summer blues one last time, with an all star cast of artists providing your weekend soundtrack.
Still riding the rousing success of last year's inaugural Campout, the DirtyBird crew has dished out a deliciously curated Phase 1 lineup, rich with a wide array of Techno Talent and House vibes. The first phase of the lineup includes SHIBA SAN, REGGIE WATTS, MACHINEDRUM, PARANOID LONDON (Live), PEZZNER, J.PHLIP, MARC HOULE (Live), Barclay Crenshaw, GERMAN BRIGANTE, Catz n Dogz, and so much more. If your eyes are full from the first serving of artists, be prepared for the main course - and the release of extra special headliners, coming soon!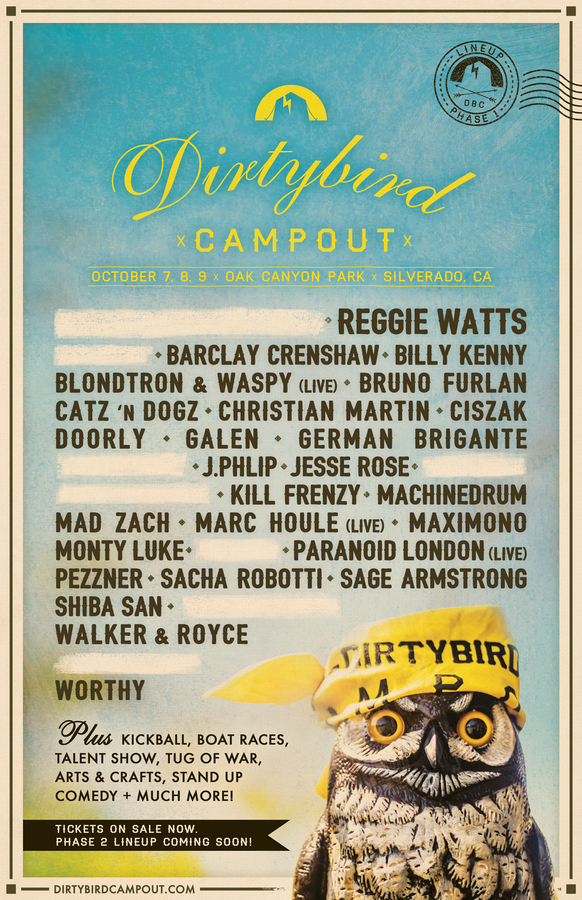 Full Phase 1 Lineup
Barclay Crenshaw
BILLY KENNY
BLONDTRON (LIVE)
BRUNO FURLAN
Catz n Dogz
CHRISTIAN MARTIN
CISZAK
DOORLY
GALEN
German Brigante
J.Phlip
JESSE ROSE
KILL FRENZY
Machinedrum
MAD ZACH
Marc Houle (LIVE)
MAXIMONO
MONTY LUKE
Paranoid London (LIVE)
Pezzner
Reggie Watts
SACHA ROBOTTI
SAGE ARMSTRONG
Shiba San
WALKER & ROYCE
WORTHY

After the amazing things we've heard about last year's event, we're definitely keeping our ears to the ground for future details. Stay up to date with the Dirtybird Crew for the latest and greatest on their upcoming releases, not to mention essential Campout news.