EDC Las Vegas 2019 has come and gone, but Headliners' presence on social media sparked a flood of posts, tweets, and status updates holding fond memories in high regard. Many artists have already posted recordings of their sets, so we don't have to go long without reliving our favorite moments of the weekend. So you can be on your game for EDC 2020 (or whichever your next festival may be!) we've put together some best practices from this year's adventure.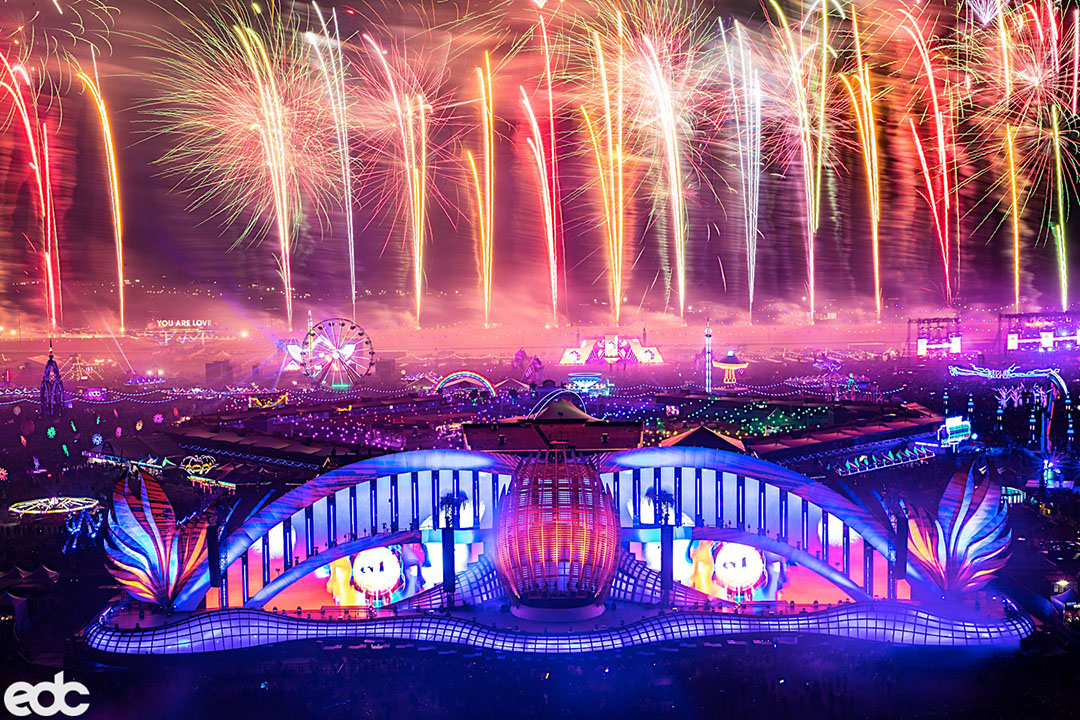 Be Prepared for the Elements!
This year's EDC Las Vegas held warm daytime temperatures which quickly dropped to cool and windy at nightfall. Many attendees used to previous EDC's 80+ degree heat were left uncomfortable as an unexpected cold front swept through the desert. Although Vegas is typically warm year-round, it is crucial to think two steps ahead in terms of weather when you'll be outdoors for hours. This year, I opted to bring a hoodie and windbreaker in my backpack. I'll always be one to pick comfort, and while I did find myself pining after the incredible outfits others were wearing, as 20-30mph winds ripped through Electric Avenue, I was grateful I'd made the choices I did. EDC also offers a plethora of lockers for rent, so if you're concerned about carrying clothing, split a locker with friends to save on costs. Bonus: charging lockers are also available, so you'll get a place to keep your items AND never worry about losing power.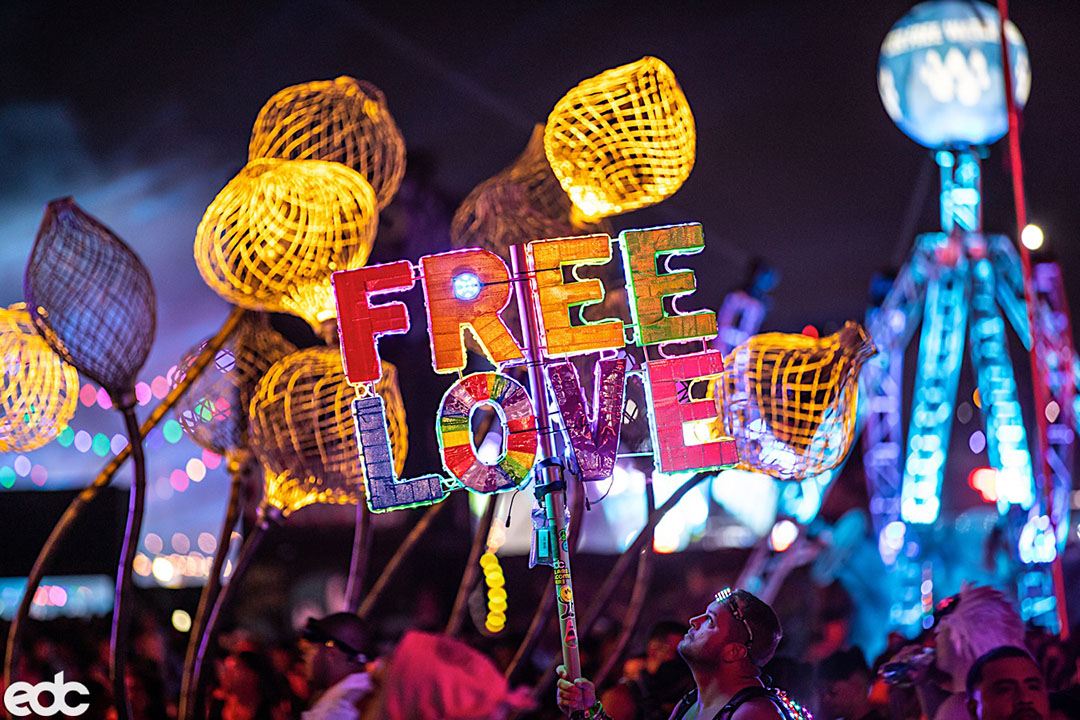 Prepare to Go Early!
If you were not taking part in Camp EDC at the Speedway this year, plan to wake up on the earlier side on at least one day of EDC to eat, get ready, and go. Arriving to the Speedway when the festival starts allows you ample time to familiarize with the festival grounds before things kick off and it gets busy. Watching the sun go down over the Cosmic Meadow while Bill Nye talked to us about saving planet was absolutely unbelievable, and since he was scheduled at the Opening Ceremony this year, I knew I had to get there at the start. Going early also affords you the time to ride a few rides before the main crowds get to the Speedway. It's so easy to forget about every individual aspect of what makes it a Carnival- make time for the rides! You will thank us later.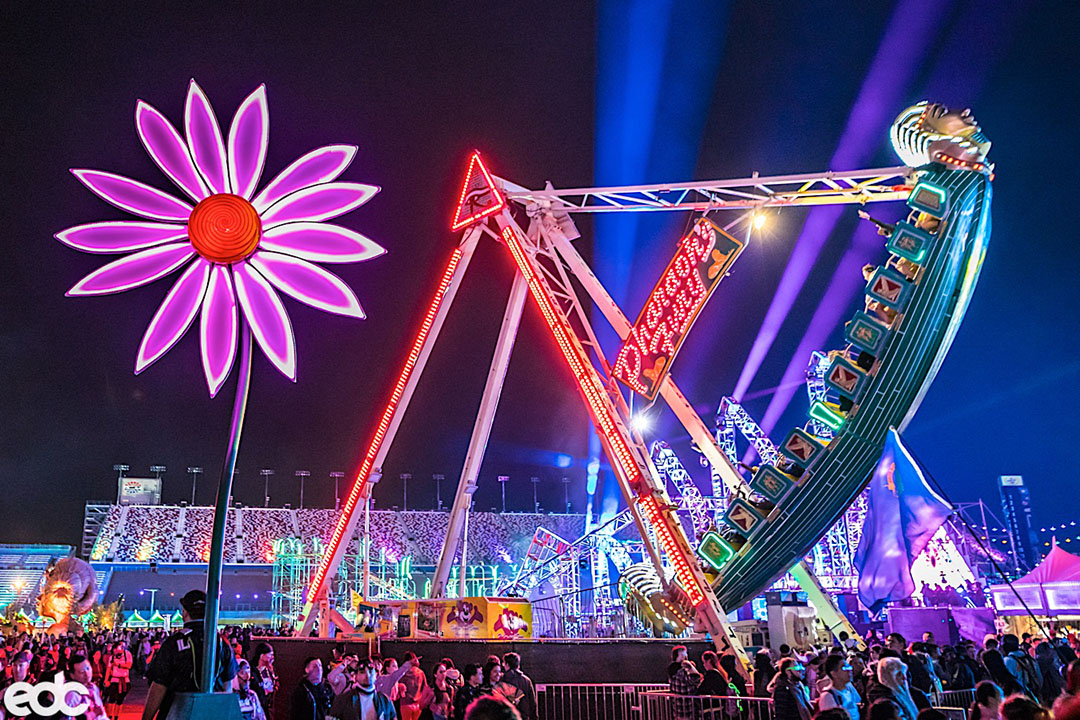 Get Ready!
The day before, prepare your backpack or fanny pack with essentials so it's less to think about as you prepare to hit the road. Sealed chapstick, baby wipes, hair ties, antibacterial wipes, sunglasses, tissues, and a mobile battery pack are a couple of things I personally can't go without. I also made sure to pack an extra windbreaker that compressed into a very minimal space, in case someone in my group got chilly. If you have the room, consider bringing extras of a few things to make someone's day in the crowd. The climate is very dry and dusty, and making someone happy can be as easy as giving them a spare chapstick. EDC does have a general store inside, so if you've forgotten to make a trip to a convenience store prior, they've got you covered.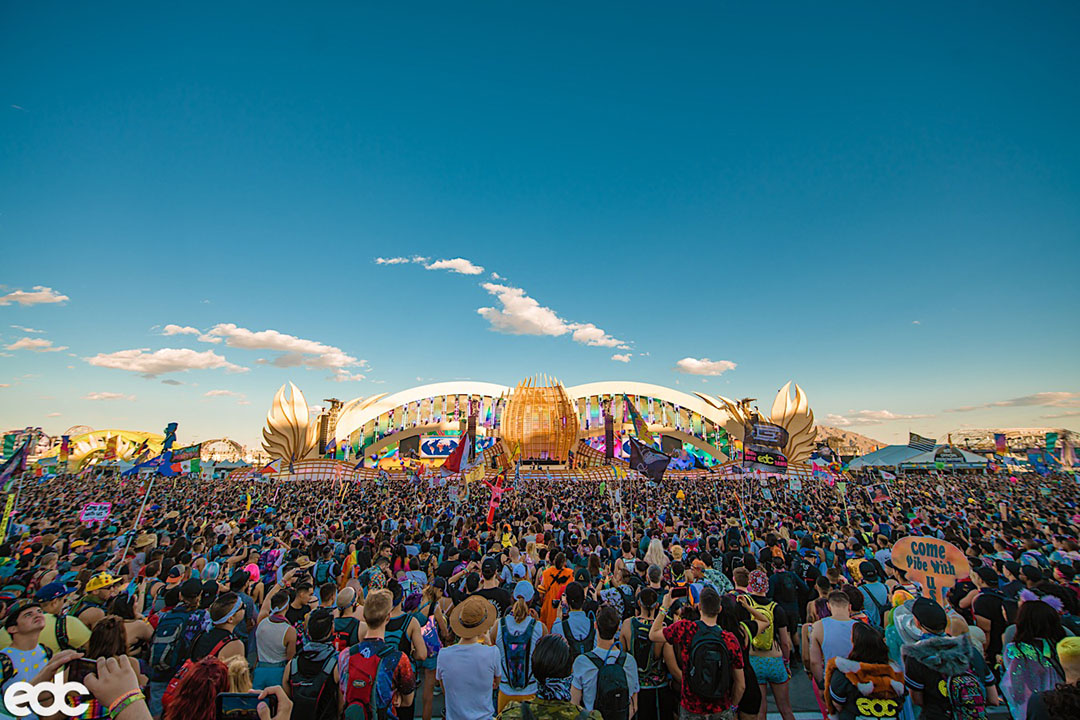 Don't Try to be Everywhere!
EDC Las Vegas made use of the entire Speedway this year, meaning they had a bigger space than ever before. Depending on how fast you and your group move, it can take over 20 minutes to get from stage to stage with crowds. I try not to commit to more than 3 must-see sets per day. Sure, there are many DJs that I want to watch, but I've accepted that I won't make it to all of them and then won't be left disappointed. EDC is full of surprises and your new favorite DJ might be right around the corner from you, and if you only go to what you know already you may not find any new music. This year, I was surprised by Nitti Gritti's dubstep-infused set at Circuit Grounds, one of the first performances I saw on Saturday. I was actually making my way through that stage headed to the Basspod, but the music was so good that I stayed for about a half-hour. Another fun way to experience EDC is without a plan at all. Walk around to different stages until you find something you like! Hit the Art Cars, the Corona Electric Beach, and the redesigned Downtown areas. You might make new friends along the way or even bump into a familiar DJ face. When they're not performing or doing interviews, DJs are often roaming around the Speedway just like the Headliners do. Make sure you've downloaded the Insomniac app to your Smartphone before the event as well- any surprise performances will be pushed as a notification right to you, so you can stay up to date.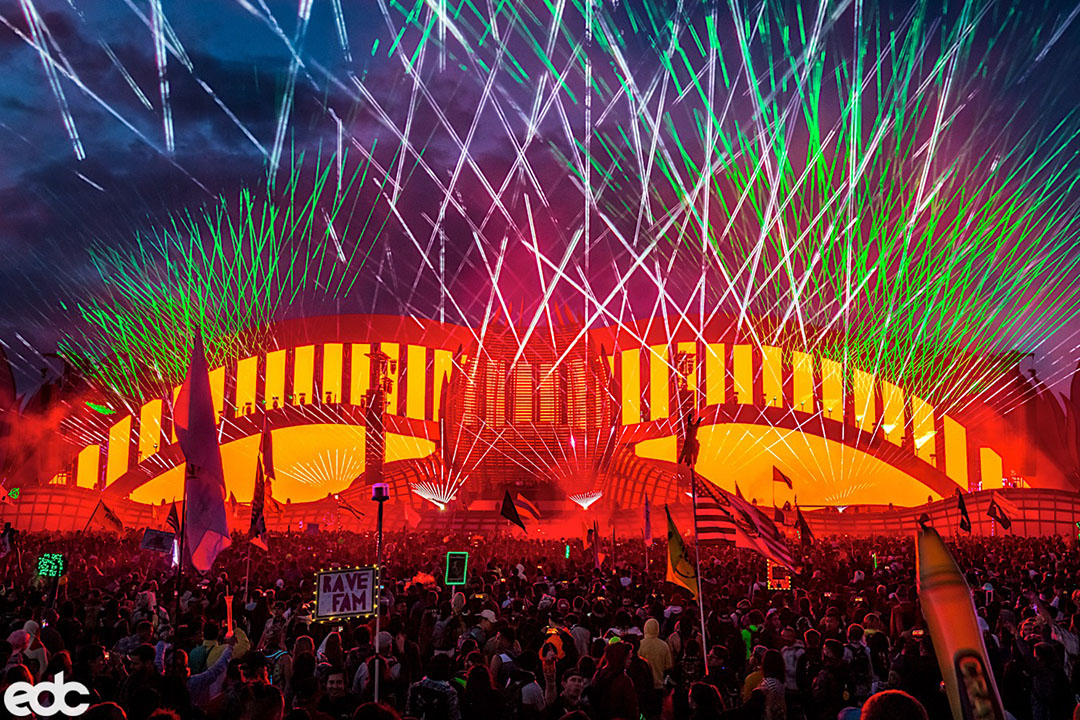 Expect the Unexpected!
The Insomniac team is known for going above and beyond to delight attendees at their events. This year, EDC Las Vegas was graced with a performance by the legendary Skrillex on Saturday night. Though he wasn't originally on the lineup, rumors of his appearance began circling Twitter as Pasquale tweeted that there would be a mystery set by someone who had not seen EDC Las Vegas for a long while. Tweets speculated The Chainsmokers, Calvin Harris, and Skrillex as their top 3 guesses, but it wasn't until Skrillex tweeted "Spare an hour?" at Pasquale the following day that the truth began to solidify. Later, Slander revealed they'd given up some of their own performance time to accommodate Skrillex, and by 10:30pm on Saturday it felt as if the entire festival had shown up. Skrillex opened his set paying homage to songs he'd collaborated on with artists such as Habstrakt, Joyryde, Boys Noize, Poo Bear, and Jack Ü, then later mixed in some old favorites, dropping Devil's Den, Cinema, and Promises. There was plenty of unreleased music betwixt the familiar songs- leaving fans hungry for upcoming Skrillex music.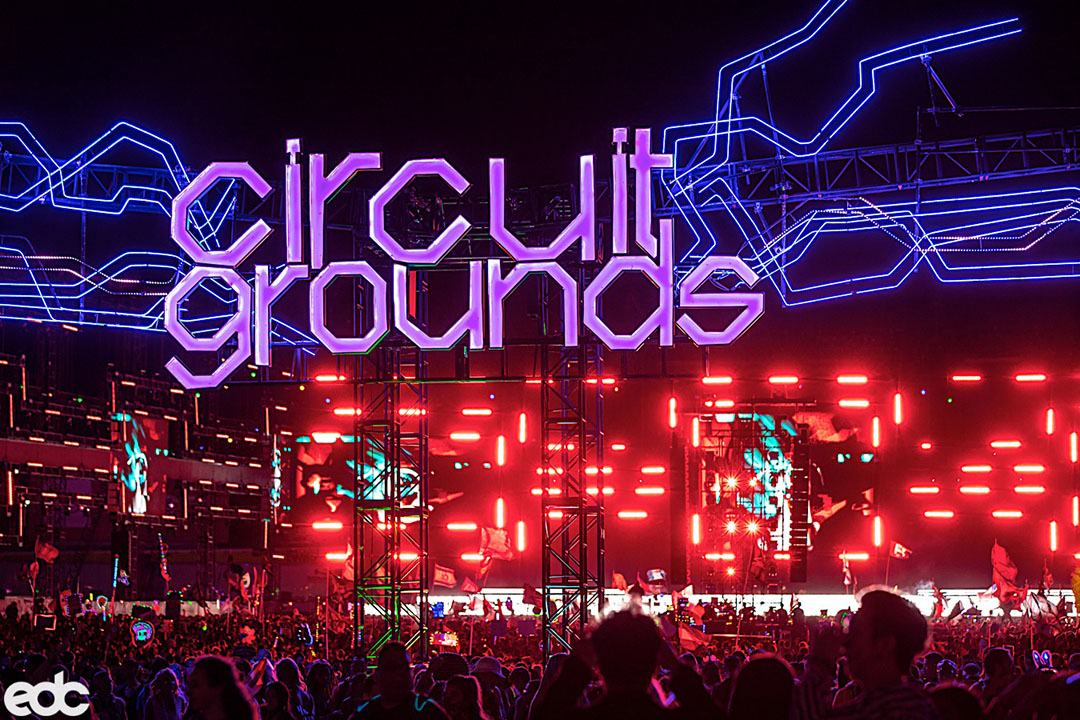 Take Care!
EDC can take a toll on you both mentally and physically. Between hot and cold weather, lengthy time on foot, overstimulation from lights and sounds and other factors, it's important to check in with yourself and your group from time to time and take a break if you need it. EDC has built a plethora of places to sit and relax between stages. In the center of the festival, there was a chill zone with bean bags which was a quiet, safe space for folks to rest. When possible, take 20 minutes to refill your water, sit down, connect your phone to your mobile charger, and breathe deeply. This is also a great time to grab a slice of pizza, a plate of buffalo chicken tater tots, a fruit smoothie or a coconut. Your mind and body will thank you.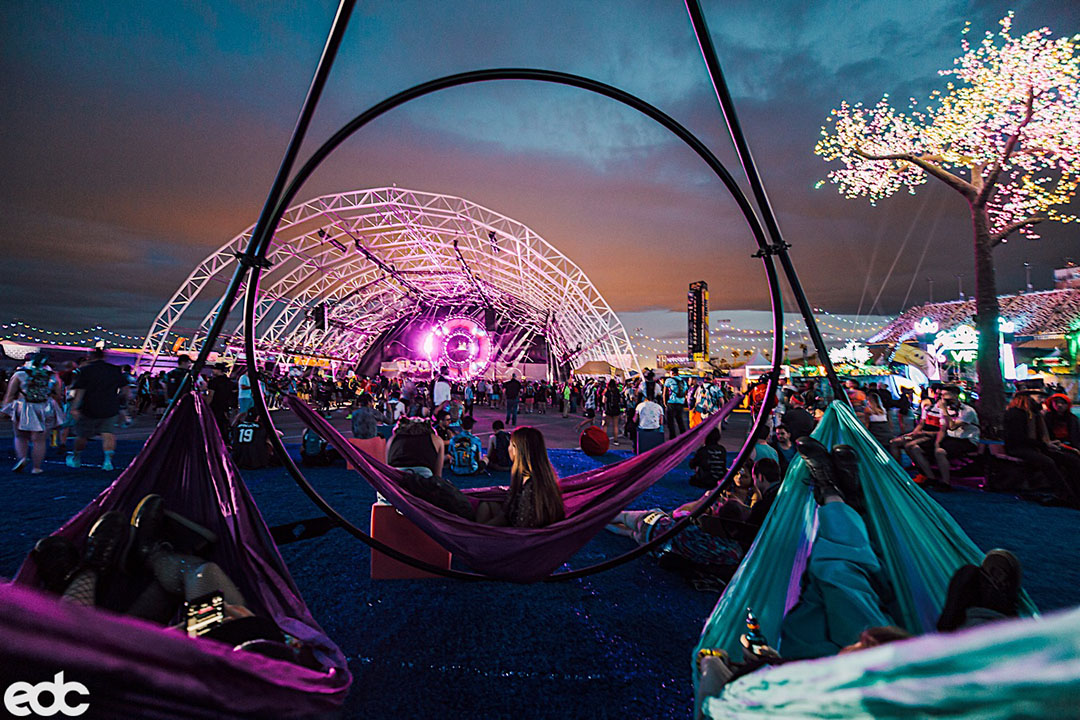 We had a blast at EDC this year and we're already anticipating the next one. Stay up to date on EDC news worldwide HERE!