Distribute a track on LRD (Listen, Review, Download)
Let's get feedback for your track, you'll need to: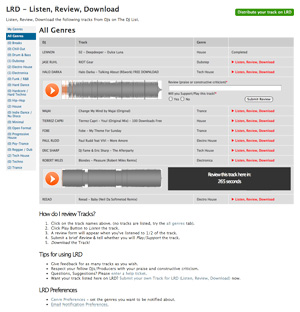 Claim your DJ Profile
Connect a Soundcloud Account
Create your first LRD
Complete the above steps and refresh/revisit this page.
LRD is possibly the fastest way for you to get immediate+relevant feedback and usable reviews for your tracks from your DJs around the world.
Get relevant/genre-targeted feedback for your tracks+remixes distributed to DJs at The DJ List
Get your track in front of DJs, immediately. Plus you'll get full reporting and contextual reviews+support for your track.
How it works
Create your first LRD (by selecting a Soundcloud Track above)
We distribute your track via email to 100% of genre relevant DJ members on The DJ List.
DJs access the LRD Dashboard to listen to and review your track.
After Listening and Reviewing, DJs are presented a "Download this Track" link.
You'll access your LRD Dashboard to see a report+reviews with support analytics from DJs around the world.
Use this feedback for all future marketing+distribution.