A staple in the music scene and a cornerstone of the dance community, Insomniac and their fearless leader Pasquale Rotella have catapulted the idea of Peace, Love, Unity, and Respect to the masses. Though the first iterations of the Electric Daisy Carnival started back in 1991, Nocturnal Festival - as it was called back in the day - was the first fixed festival under the Insomniac heading, starting in 1994. Now celebrating an unprecedented 22 years* of of cutting edge culture and international music, Insomniac's Nocturnal Wonderland Festival is plotting a triumphant return to Glen Helen Regional Park on Friday, September 15 and Saturday, September 16.
Purchase Tickets Here
Make sure your party pants and dancing shoes are ready to romp for this two day, two night camping extravaganza with hundreds of your new best friends. Featuring 60 musical acts over the span of two epic days, this year's Nocturnal Wonderland promises to send you down the rabbit hole to an audiophiles dream, befit with costumed creatures of the night dancing and dreaming under technicolor landscapes.
For more on Insomniac's fabled Nocturnal Wonderland, visit their website or social media channels -
Website | Facebook | Twitter | Instagram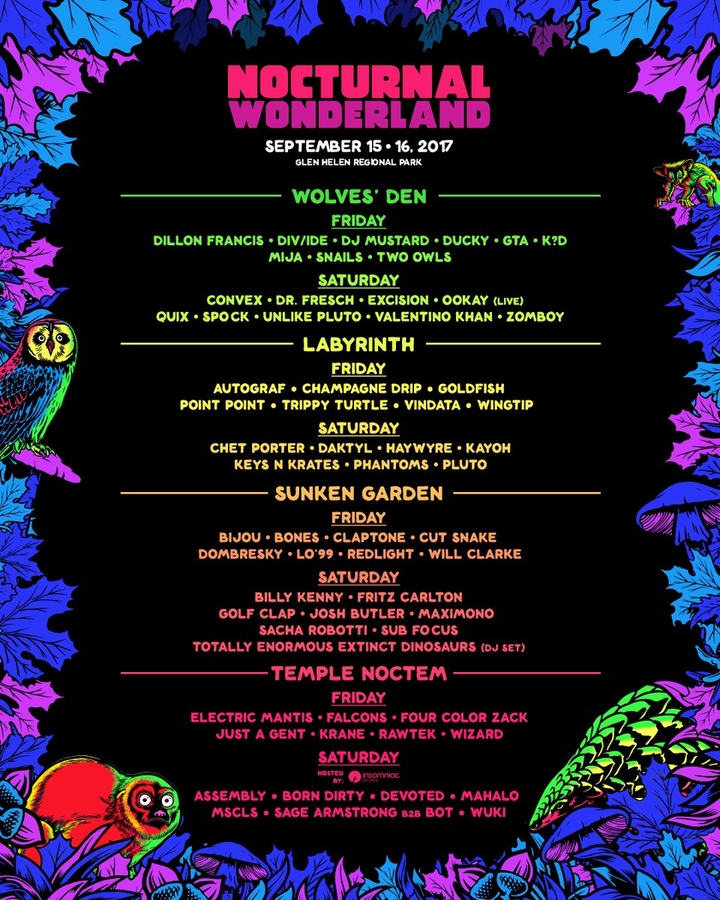 *For the Math Checkers: Though Nocturnal Began in 1994, there was no 2002 event.