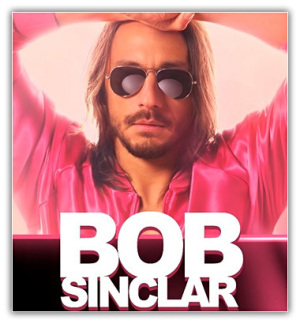 Bob Sinclar has become a household name in the industry and we had the pleasure to witness him perform at the Mezzanine in San Francisco. In celebration of Select Entertainment's three year anniversary, BOB SINCLAR showed us why he is still wanted all over the world. His high energy set did not leave a single genre untouched, from old school disco classics, to SKRILLEX & Damian Marley - Make It Bun Dem, just to top it off with a nice SWEDISH HOUSE MAFIA bootleg from Save The World. All of this flowed effortlessly together, and made for a really interesting set. But it was also a night for showing of some his tracks off of his brand new album, "Disco Crash," as well as BOB SINCLAR classics like, "Love Generation." Overall he put on an amazing performance; with his refreshing track selection he had the entire crowd jumping up and down all night. Right before the show we had a quick chat with BOB SINCLAR to see what he has been up to.
The DJ List: How do you see yourself as a producer?
I do not really know, I never really like to describe myself. I think maybe my name, defines who I am as a producer. The name has a lot of legacy behind it. I started my label in 1994 where I produced and had the opportunity to work with a lot of young artists. We all worked hard at that label, we were a real team and for the last 15 years my passion has been to produce with young artists and recycle old sounds. I have made my passion my life, I noticed when you do that in your life it will always pay off. Not in terms of money, but in terms of internal happiness. See if you do things for money it will never work out. For me money was never really a concern, because house music did not exists in 1994 on the same commercial level as it does now. There were a few American icons like ROGER SANCHEZ and DAVID MORALES, those where the few guys we really looked up too because they were good producers. I am very happy to be part of the upbringing of the French house scene that started in 1995, as we did not have any manual on how to do things at that time. We had to learn step by step how to produce, how to create concept and how to create a real artist image.
The DJ List: You have a pretty full summer tour schedule, where do you look the most forward to playing at?
Ibiza is always my favorite place to play, because people come from all over the world and there are no boundaries between religion, color, and being rich or not. It is the mix of different genres that is really good for the music scene, it unites everyone with music and that is always such a nice thing to see. We forget the day, there is almost this hippie state of mind in Ibiza, nobody has to arrive in fancy clothes or fancy cars, and people just show up however they want. Each month I play at the Pacha club in Ibiza and I always really look forward to playing there.
The DJ List: Your album 'Disco Crash," came out recently. What is this record all about?
It is my 5th album and it is all about club tracks. To do an album these days, I think it is a bit old school. It has become more a business plan as most people will download your music for free. It can be negative and positive in both ways. I do not like to think music should be free, because it gives a bad image to music. I don't like that because there is creation behind it, there are artists putting time and effort into it. I like producing with young artists like MICHAEL CALFAN, those artists as well as other underground projects still need to be paid. I do not really think about making money off a record, but more in terms of covering the investment. What was the question again? Oh yes, Disco Crash was amazing to do, because I did not have any pressure I met a load of guys on the road, I did the album a year ago. Then in 2011 it got famous for all these collaborations. I think that is what the record is all about, collaborating with new people.
The DJ List: What Is your favorite track off the record?
Gilbere Forte – Around The World, He is a rapper and I used to come from the Hip Hop scene. I played hip-hop in the 80's and today I think there are no barriers between genres and this track really shows that. Hip-hop and rap can easily be mashed with House. Reggae and dub step, everything fits.
The DJ List: 'F*** With You' ft SOPHIE ELLIS-BEXTOR & GILBERE FORTE is a really interesting song. How did that project come together?
I always do about 20 tracks for an album and then I decide what artistic direction I want to take. I wanted to work with Sophie for a long time because I was a big fan of tracks like Groovejet and Murder on The Dance floor, she really is a disco icon in Europe. It was funny because when she had to sing Fuck with You she told me she never sang anything like that before. But I think the song is more kinkier than it is vulgar. As for the music video, we were forced to do a censored version.
The DJ List: What producers/artists would you like to collaborate with in the future?
Well for me, my goal has always been to develop artists. Collaborate with DJ's, not so much, I mean I did projects with AXWELL and DIRTY SOUTH, but it really depends who I work with. When I meet producers, I'll say sure let's do something together. As long as in the moment, we have a good feeling about it, let's do it. But to dream about collaborating with someone, no, maybe if I could go back to the beginning of house music I would be able to name a few people.
The DJ List: If you could pick another profession then dj/producer, What would it be? (Besides Tennis of course)
For me there is nothing else besides music and sport. I might create a social network or maybe I could be Hugh Hefner so I can create Playboy.
The DJ List: Any tracks you're working on you would like to tell us about?
Yes! Actually, I did a song for this summer. But it is a bit harder right now to do more projects. I used to have more projects like the Africanism and The Mighty Bop, it was easier to put tracks out. Today when you create a song in your head, you are to say to yourself, you should do it for free. So you do less music but more efficiently. But I have sampled an old classic from the 60's called Pinocchio, it's a piano version it's very burlesque. On top of that I did a track and the result is turned out better than I expected. I am going to do a black and white video with tap-dancing. I am going to do a concept like that this summer. In the coming weeks I am going to launch on my network a few little videos about this. So keep an eye out for that.