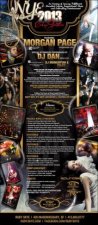 December 31, 2012
Ruby Skye
420 Mason St. San Francisco, United States

94102
Time: / Ages 18 and over
---
Home > Events > San Francisco, United States

---
Lineup
Details
Ruby Skye, Spundae & Mixed Elements Present
RUBY SKYE NYE 2013
Monday, December 31
Advanced Tickets: http://thedjlist.com/tix/954605/
View Invitation: http://www.rubyskye.com/
Music by: MORGAN PAGE & DJ DAN
Indulge yourself with tempting culinary creations handcrafted by Executive Chef Eric Treiss.
Chef Eric brings a wealth of global influences to his classic California fare. A wide array of choices both butler passed and stationed.
Delectable Artisan Confections
Mind-blowing and Mesmerizing Aerial Performances by Trapeze World
An international sensation, Trapeze World has thrilled audiences from all over the world. They bring artistic world-class talent
to stretch the imagination and with theatrical and modern interpretations of cirque-style performance art.
Huge NYE Countdown Extravaganza featuring San Francisco's Largest Balloon Drop
Festive Streamer Cannons
A Million Tiny Pieces of Shiny Confetti Rainfall &
A One-of-A-Kind Theatrical Trapeze World Cirque Countdown
Don't miss San Francisco's most anticipated & exciting NYE event
---
MENU
Menu by Executive Chef Eric Treiss and his Catering Team
(Served 8pm-11pm)
Passed Hors d'Oeuvres
• Skewers of Asian Marinated Skirt Steak
• Endive with Stilton Blue Cheese and Walnuts
• Bruschetta with Diced Mozzarella and Basil on Sliced Baguette
• Sesame Chicken Satay with Spicy Peanut Dipping Sauce
• Applewood Smoked Bacon, Gruyère and Sautéed Leek Tarts
• Curried Crab with Sliced Almonds on Sourdough Rounds
Stationed
• Classic Saffron Scented Mediterranean Paella (Presented in our customized 4 ft. Paella Pan) with Crab, Chicken, Spanish Chorizo, Shrimp, Clams and Mussels
• Artisan Rolls and Butter
Stationed
• Herb Encrusted Filet Mignon with Port Wine and Mustard Reduction
• Duet of Oven Roasted Potatoes with Rosemary and Extra Virgin Olive Oil
• Hearts of Romaine with Caesar Dressing and Parmesan Croutons
• Artisan Sourdough Rolls
• Chef Attendant
Stationed
• Rum Raisin Truffles
• Apple Cobbler
• White Chocolate & Macadamia Nut Cookies
• Chocolate Cheesecake
• Truffle Bars
• Toasted Coconut & Chocolate Chunk Triangles
Complimentary
• Champagne or Red Bull toast at midnight
• Party favors
• Coffee after midnight
• Reception style dinner served 8pm-11pm
Festivities go all night!
Bars re-open at 6am for more fun!
---
TICKETS
Limited advance tickets for entire evening – $100 (starting price)
After 12:30am tickets – $50 (starting price)
After 2:00am tickets – $30 (starting price)
Booth, Table and VIP Suite reservations available. Call 415-693-0777.
420 Mason St.
San Francisco
,
United States

94102
954605